Best SMOK Pod Mod Vape System Starter Kit 2020
Of all the vape brands, SMOK(SMOKTech) you know it very well I believe. Yep, SMOK is one of the top vape brands in the e-cigarette industry. It has a 10-year history and a mature R & D team and design team. During these 10 years, it has produced a wide range of products with strong innovation and each product All vapers like. So what are the Best SMOK Pod Kit 2020?
SMOK RPM40 Pod Kit & RPM80 Pod Kit

The SMOK RPM40 Pod Kit is by far the best-selling Vape System and has been upgraded to the current RPM80 Pod Kit and RPM80 Pro Pod Kit. These three Pod Mod Vape System Kits are all very good vape devices. Among them, the RPM40 Pod Kit is the best hot. Various colors, comfortable feel made of aluminum alloy, compact body and excellent TFT screen display. The main thing is that the RPM40 40W Pod Kit has three buttons, an intuitive and comfortable ignition button and two adjustable power buttons, which is very convenient to use. And easy to operate and carry, so praised by vapers.
SMOK Nord Pod Kit & SMOK Nord2 Pod Kit

If you are DL vapers and MTL chasers, then SMOK Nord Pod Kit will be a good choice for you. Its package contains two coils with different ohms, a 0.6 ohm mesh coil and 1.4 ohm ordinary coils. It has a great effect on steam and strong odors. Coupled with 3ml of e-liquid and 1100mAh battery, you can make you vaping all day long, as well as beautiful appearance and comfortable feel, it will increase your vaping experience. And the SMOK Nord 2 Pod Kit is more perfect. The battery capacity is increased to 1500mAh and 4.5ml capacity, which is more powerful and stable than the Nord Pod Kit. It is a very worthy Starter Kit.
SMOK Fetch Pod Kit

The SMOK Fetch Pod Kit, which has subverted the traditional appearance, is also a great starter kit. It has creatively improved the glass structure so that it has high hardness and permanent gloss, and has a one-button emission mechanism, fast response for vaping, combining aesthetics and practicality, the RPM 0.4ohm net in the package The shape coil and Regular DC 0.6ohm coil make its taste rise to the top, delicious and strong and durable, it is a good choice for beginners.
SMOK NOVO Starter Kit & NOVO 2 Pod Kit

The SMOK NOVO 2 Pod Kit is an enhancement and upgrade based on the SMOK NOVO Pod Kit. It has a larger battery capacity and heating effect, and has been improved in appearance. The appearance is designed with resin and has eight color options. But in my mind, It seems that the appearance of SMOK NOVO Pod Kit is more beautiful, and the appearance of NOVO 2 Vape System is a bit ugly.
SMOK Pozz X Vape System Kit

A new product developed by SMOK in 2020: SMOK POZZ X Pod Kit is a very promising vape system. It is small, durable, superior in performance, simple to operate and exquisite in craftsmanship. It is a compact vape device. The carrying 1400mAh battery provides a long-term continuous atomization effect. The 4.5ml e-liquid capacity allows you to not inject liquid frequently. The same package carries two coils, one RPM 0.4ohm coil and RPM 0.6ohm triple coil, and the color Up to 9 kinds, you can choose your favorite color.
SMOK Alike Pod Kit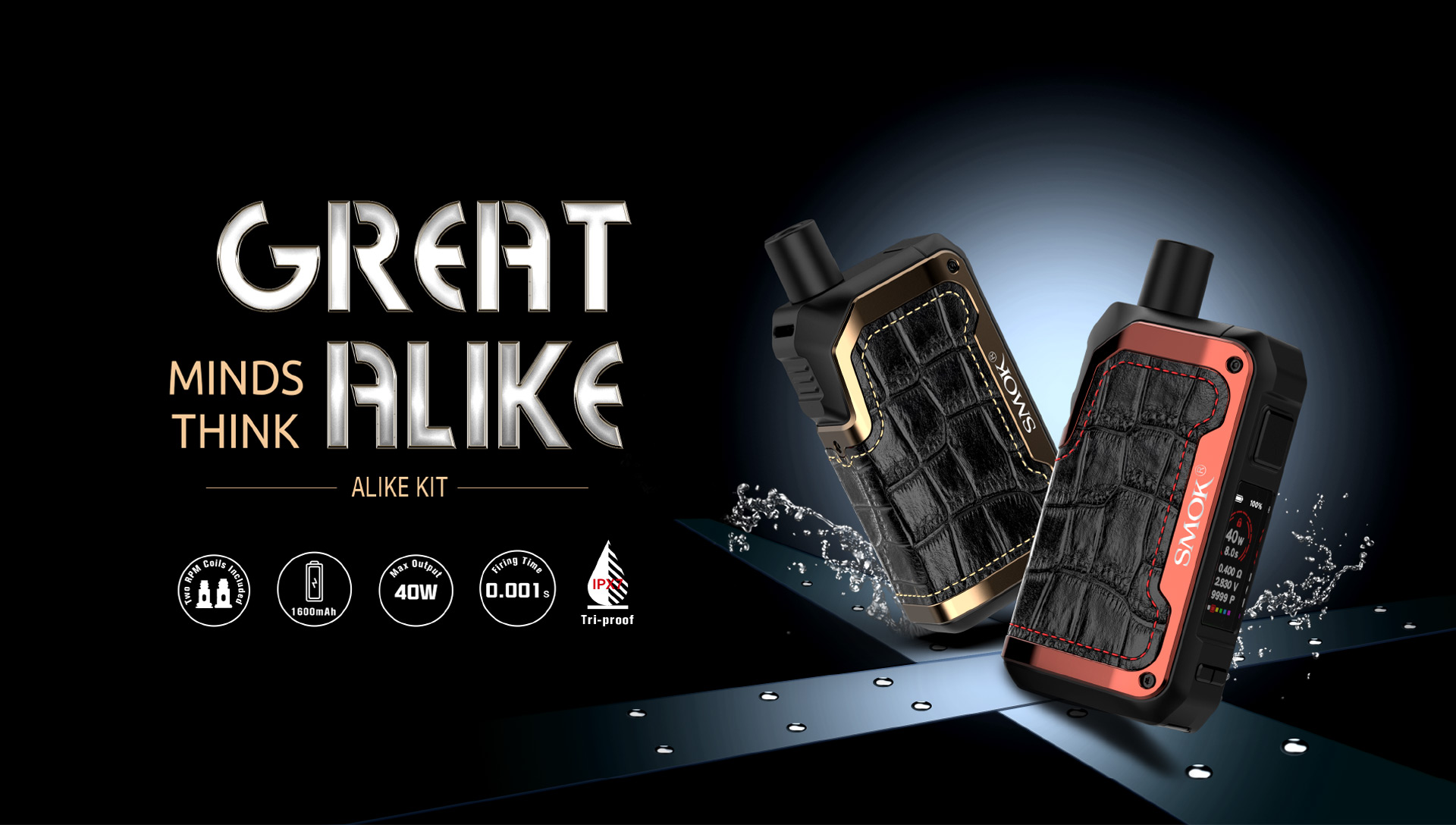 SMOK Alike Pod Kit is the newly developed Vape System. It is integrated with 1600mAh battery and has a maximum output power of 40W. The firing speed of 0.001s allows vaping to develop more quickly. The side filling design also has a diversified experience. Canceled the design of pure metal and changed to Metal + Leather + Food-grade PCTG, which makes your hand feel the highest point. The small and compact design also makes it easier for you to carry SMOK Alike Kit.
The 6 Pod Mod Vape System Kits above are the best and most promising Pod Kits of SMOK. If you are using one of them, then congratulations to you, you are lucky, if not, then buy it at vapeciga online vape shop. Now also has free shipping worldwide and huge coupon.
---